EXHIBITION 4 - Public Education
The Houston Public Library sponsored a series of Programs and small publications on a range of themes, reaching a broad demographic..
These were both to raise awareness in the community, and advance consideration of the City as it was redefining itself. We were so bold as to posit 'Signs' as part of the urban landscape, and suggest that Houston had celebrated an Hispannic heritage.(refer also to EXHIBITION 2 - Women in American Architecture, using the venue, but seperately organized.)
'CLICK' on images for Caption and to review in Sequence.
HPL- "Signs of Houston" POSTER
The "SIGNS OF HOUSTON" project was promoted by the Library with posters announcing the CITY Project.
HPL- "Signs of Houston" Postcard
Also, an extensive mailing of postcards to Library Patrons included my collaborative work with photographer Paul Hester.
HPL- "Signs of Houston" Brochure
The final component was a Book in which I wrote an Essay, "Icons and Eye-Cons", with extensive Captions paralleling Paul Hester's photographs.
AC FINN -FLYER
A major acquisition of 'lost' archival papers to the Architectural Archives resulted in a major series of events. AC Finn was the architect of the Gulf (Oil) Building, marking Houston as a home for the petroleum industry, and one of the first "skyscrapers".
AC FINN - EVENTS
Public lectures were part of the program making the general public aware of the legacy and its importance to the culture of the 1920s +.
AC FINN-BOOK COVER
A publication was made to put the architect in contxt.
AC FINN-BOOK Piv -v
Acknowledges my role in the acquisition.
CiteLines-Cite3/AC Finn Collection
The review in CITE describes my role in the discovery and accession.
LA ARQUITECTURA POSTER
This Program was directed to explain the position of Spanish Colonial architecture as a 'style' seen as a Regional context, environmentally, symbolically and culturally. The Julia Ideson Building (the original Central Library) was itself in the style.
LA ARQUITECTURA-FLYER
Library Patrons were made aware of Programs explaining the raison d'etre behind the initiative.
LA ARQUITECTURA - Library Talks
I participated in several "outreach" events at branch libraries, particularly in Hispanic/Chicano neighborhoods.
LA ARQUITECTURA - Reading List 1
Directing Patrons to holdings within the Library was the purpose of a select bibliography.
LA ARQUITECTURA Reading List 2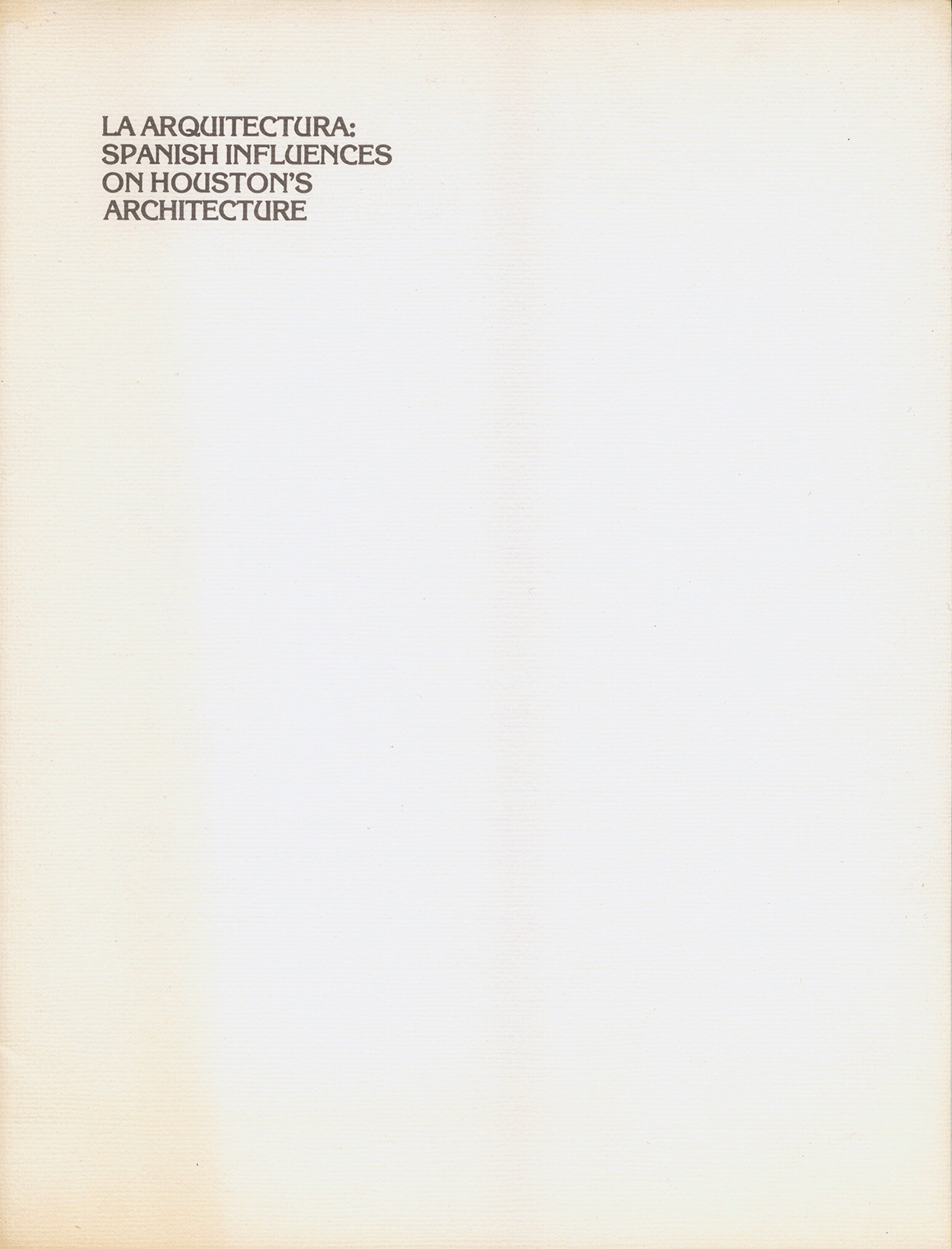 LA ARQUITECTURA BOOK
The program also produced a (free) publication ["click" to read].
LA ARQUITECTURA Tour Map 1
To further make the Public aware of this Hispanic Heritage, we produced a list of existing examples.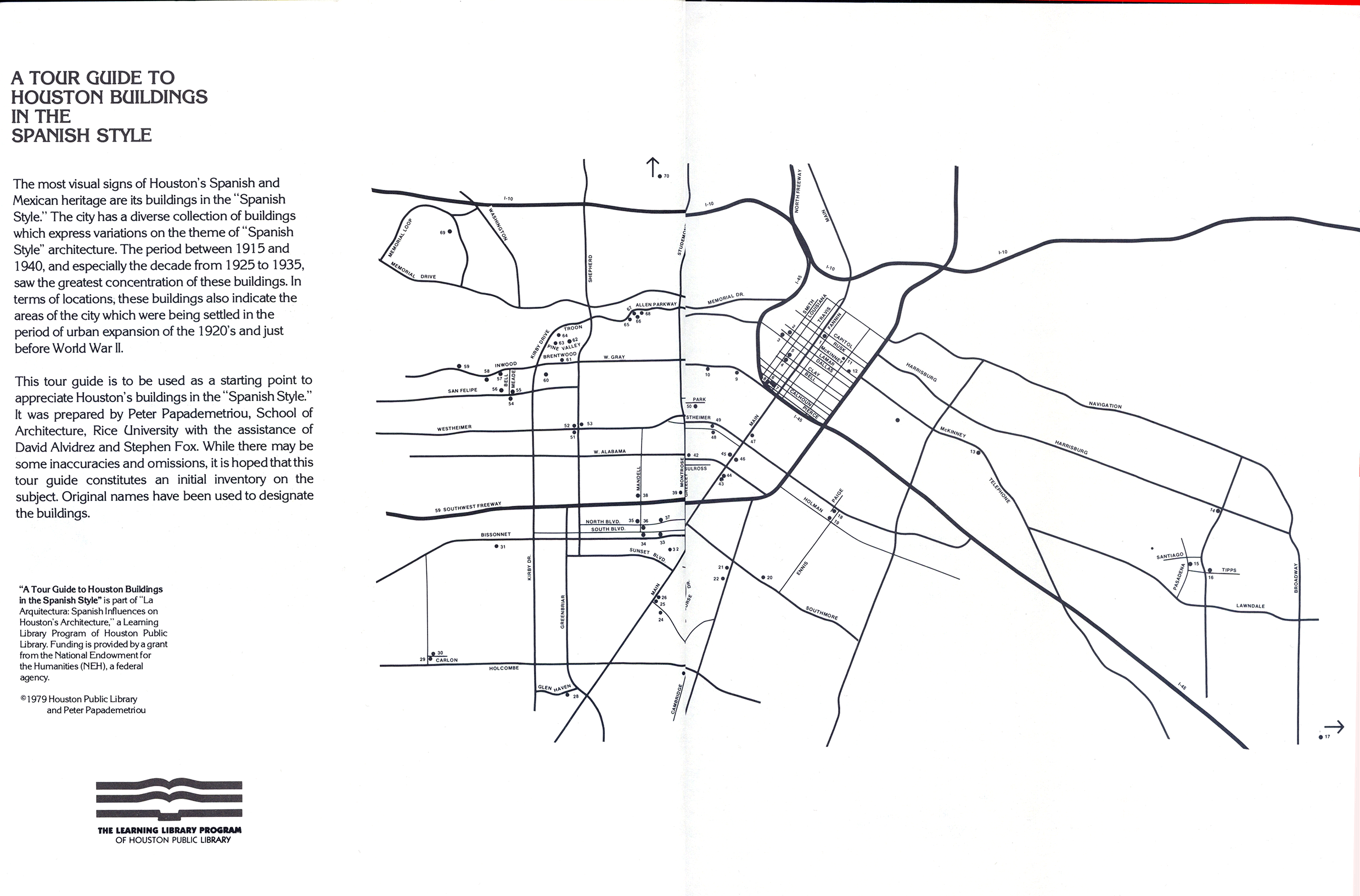 LA ARQUITECTURA-Tour Map 2
A location map illustrated the diversity of locations.
HARWIN C. MOORE - Flyer
Harwin Moore was the father of another Architect, Barry Moore, who was one of the "Young Guard" on the AIA Guidebook Committee (see Review in PUBLISHED WRITINGS 5), which includes his Review of same, 30 years later in CITE 2012.
HARWIN C. MOORE Review
The HOUSTON CHRONICLE promoted the significance of the exhibit.