UNBUILT 4 - A 'Mannerist' Revision of 'Style'
Requirements
This project involved complete renovation of an existing two-story structure, and adding a major addition. Originally a duplex house with identical floor plans, it had been previously converted to a single residence with severe circulation and privacy problems for its present owners, a family of five; a one-story addition to the rear and a small garage were to be removed.
The major program requirements were: additional and better-zoned adult social areas, progressing from formal spaces on street-side, to informal at the rear; new breakfast room and renovated kitchen; pool and patio with access from the street; addition of a Master Suite, integrated garage, and provision of maid's quarters with expanded children's bedrooms and baths.
Solution
These requirements, coupled with the confusion of the existing plan, called for a major reorganization and reassignment of existing spaces. The resulting L-shaped configuration organizes the new plans with formal entertaining areas and children's areas in the front, existing house, and informal pool-related areas and Master Suite in the new addition at the rear. The plans also facilitate a clarification of use areas with respect to public/private relationships, view, and orientation.
A major formal determinant was the decision to marry the new and old parts by respecting and extending the existing roof geometry. The resulting image also draws from, and enriches, the feeble allusions of the existing vocabulary. The rear facade becomes the principal elevation, resolved by the juxtaposition of textures, shifting symmetries and axes against the integrity of the triple-gable form. I freely admit a "quotation" from the work of Sir Edwin Lutyens' 'Homewood', but inverting its triple-gable/centered entry with the shifted center with the drainpipe on the new axis centerline. "Learning From Lutyens" in the truest sense,
'CLICK' on images for Caption and to review in Sequence.
Site Plan
A modest Near-Suburban house has an expansive addition to the rear.
PLAN - existing First Floor
The existing Plan broke activities into areas which were also circulation.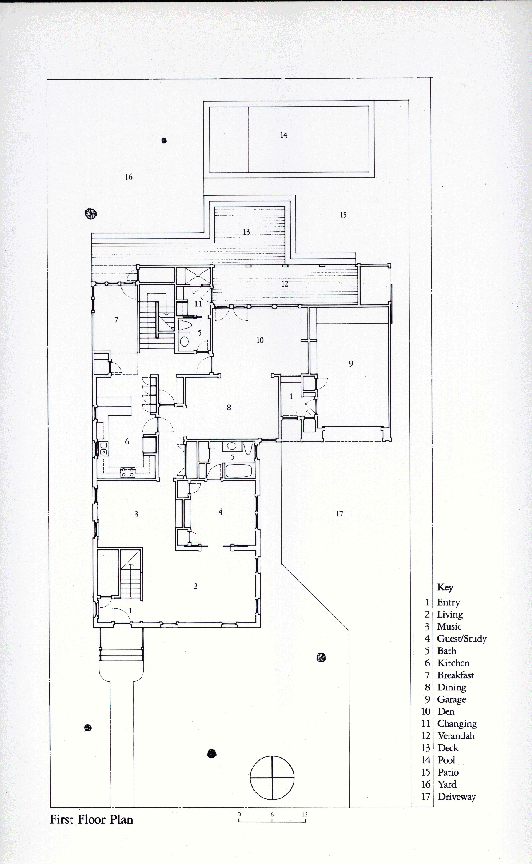 PLAN - renovated First Floor
A new staircase to upper floors was separated from more open social spaces.
PLANS - Existing + Renovated Second
Second Floor Plans illustrate the accommodation of existing room arrangement, axially terminated by the new staircase. A generous Master BR suite occupies the R.
Regulating Lines - Shifted Centers
Illustrating how 'Front' and 'Back' elevations may be seen on their own terms, with 'unrelated' centering.
Elevations
The primary new N Elevation articulates its 'center' within 3 gables, marked with by the downspout drainpipes. The staircase (R) is juxtaposed with the symmetry of the Master BR windows (L).
Axonometric
Illustrates the integration of roofs, tying old to new. Roof geometry demands a rigor within its own rules.
PRECEDENT - "Homewood"
Sir Edwin Lutyens' design inspired the use of : - Massing - primary Elevation with 3 Gables - "shifted" cross axes