REDEFINING New Life -
a Country House
Requirements
A small Country weekend house.had been in the Family since 1953, used principally as a Summer Home. Renovated in 1954, the original was added onto with a 'footprint' equal size in Plan, but with a flat roof set several feet lower than the original. An interim Renovation had compromised the flow of spaces, and the principal charge was to begin by a fourth Renovation, impacting 50% of the First Floor Plan. The second Renovation had real 'issues', so the strategy was to 'rewrite' and 'reform'.
Solution
"Correcting" the second renovation, which put a Master Bedroom on the First Floor; the indifferent fitting-out of a Bathroom/Dressing/Closet on the footprint of what had been a small Kitchen/Dining resulted in an odd-shape, with no cross-ventilation, doors opening in that then forced cross-circulation through the space. Closing the short run of existing stairs provided enough "grabbed" space to both reorganize the Bathroom to a "clean" shape, relocate, enlarge and install a Cedar Closet, and configure the Master Bedroom into a rational Geometry.
'CLICK' on images for Caption and to review in Sequence.
COUNTRY HOUSE 1954
Property showing house at time of purchase.
COUNTRY HOUSE-1953 Rear Elevation
Circa 1953: a simple 'shack', typical of local farmhouses. Compare with Plan(s), showing the Existing seen in photo, and the initial Renovation.
COUNTRY HOUSE -1937+1960
Existing Plan (L) represented in previous photo; Renovation circa 1960 (R). The renovated plan was by architect Robert Rosenberg.
COUNTRY HOUSE - First Renovation Ext
Rear elevation following initial Renovation.
COUNTRY HOUSE - First Renovation Int
(L) the future Bedroom area as Kitchen-Dining in the First Renovation; (R) Living Room with early Bookcase, and door to Basement. Design by Robert Rosenberg, early residential architect who died at a young age.
COUNTRY HOUSE-1968 Survey
'Footprint' at R bottom shows the basic form with an addition.
COUNTRY HOUSE-EXISTING PLAN
Renovation target area; an interim 'renovation' had eliminated the clear arrangement connecting spaces from Front (top) to Rear/Garden (bottom). A Bathroom/Dressing/Closet suite had filled in, leaving a Bedroom which - had twin doors opening into the Bedroom - still had access to the staircase, effectively cutting circulation through - Bedroom had little natural light, virtually no cross-ventilation - has an 'odd' shape, with a dark, dead corner (L)
COUNTRY HOUSE- STRUCTURAL BAYS
Overlay on Existing Second Floor (black), with existing and proposed Renovation (red), suggested - there had been, in fact, a front porch as shown in 1937 Plan - the wall between the new Bedroom/Bathroom/Closet suite was continuous vertically, Basement furnace, occupied a portion of the Upper Living Room bookcase.
PLAN annotated with Phases
Strategic redefinition of upper level Bedroom & Upper Living Room configuration, and reworking of Kitchen-Dining Plans.
PLAN with Golden Sections
exterior windows 8-15-2015
COUNTRY HOUSE-Bedroom/day
View from entrance to Bedroom, now natural light-filled, with existing (but replaced) windows toward the Road acting as clerestory apertures.
COUNTRY HOUSE - Bedroom interior 2
Bright daylight from new double-hung windows, access doors are "barn doors" infilled with translucent panels. Each door glides sideways, and can be opened separately.
COUNTRY HOUSE - Bedroom interior 2
Both "barn doors" shown open, to Upper Living Room, garden beyond. Cross-ventilation is readily facilitated.
COUNTRY HOUSE - Bookcase Design
Construction drawings within "givens" of existing width & chimney; a 'triple' bay of modules with are the same and different. Achieving proportional regularity was a goal.
COUNTRY HOUSE - Bookcase ACTUAL
Composite analysis of how proportions were realized.
COUNTRY HOUSE - Bookcase-to-Bedroom
Reality: the new element houses heating/cooling supply grilles in fascia, return air at baseboard,
COUNTRY HOUSE - Upper Living-Room
Bookcase reorganizes the space,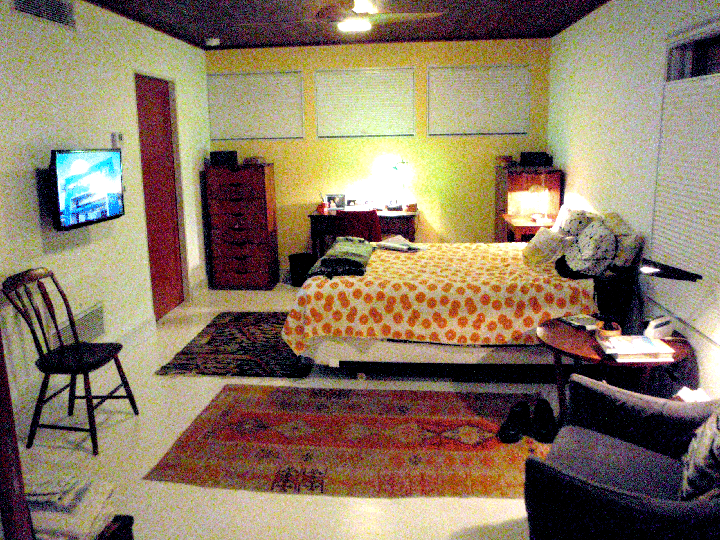 COUNTRY HOUSE -Bedroom/night
Illustrating the "lounge" aspect of the room, fully fitted out with Sonos sound system, LED TV, DVD player, and variable lighting.
COUNTRY HOUSE - Cedar Closet design
Bringing design principles to the Cedar Closet: Regulating Lines and proportions.
COUNTRY HOUSE - Bathroom 1
The new Bathroom, built on the 'footprint' of the old but re-formed space, although on the N face of the house is brightened with white tile and the glow of bright yellow enamel.
COUNTRY HOUSE - Bathroom-2
Bathroom interior at night: the sliding door/glass partition is a vertical plane, 'through' which a teakwood bench "slips" by, the "interplay of vertical and horizontal elements". The 'window' is a glass brick panel.